Dr Gavin Reid
Chartered Educational Psychologist and Associate Fellow of the British Psychological Society and member of Health Professionals Council (PhD, MA, MAppSci, MEd, BEd, PGDip Counseling, AMBDA, AFBPS)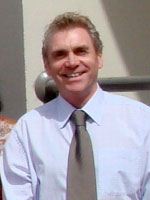 Dr. Gavin Reid is an international award-winning author, educational psychologist and international seminar presenter.
He has had ten years' experience as a classroom teacher and was formerly Senior Lecturer in Educational Studies at the University of Edinburgh in the UK.  He has been Visiting Professor to the University of British Columbia (UBC) in Vancouver, and has lectured internationally in over 70 countries and held external examiner appointments in 15 universities worldwide. He travels extensively doing workshops, seminars and consultancy to schools, as well as assessments of children and adults with learning difficulties.
Dr Reid is co-founder of the Literacy Intervention and Training (LIT) Group (LIT) and the Lighthouse School in Cairo.  He wrote the first Masters course in dyslexia in the UK.  He has also written postgraduate courses in Literacy and Specific Learning Difficulties for the Open University in the UK, the UBC in Vancouver, Mount St. Vincent University in Halifax, Nova Scotia, the Institute for Child Education and Psychology Europe (ICEPE), the Center for Child Evaluation and Teaching (CCET) in Kuwait and the Australian College of Kuwait (ACK).
Dr Reid was a member of the BDA Teacher Training Accreditation Board for ten years, and was instrumental in the introduction of video evidence being used for the first time for AMBDA courses.  This was the method used for assessing students in the University of Edinburgh course which he developed. This course became the prototype for the OU course, Difficulties in Literacy Development, and video evidence is used in this course. Gavin Reid is on the OU course team and has been involved in the course assessment. One of his publications Dyslexia: A Practitioners' Handbook( 4th Edition) is the course text.
He has authored 27 books on dyslexia, motivation and learning. He has consultancies in Dubai, Abu Dhabi, Kuwait, Switzerland, Scotland, Surrey and Cairo.
Dr. Gavin Reid lectures extensively worldwide.
He is the author of Dyslexia: A Practitioners' Handbook (4th Edition, Wiley 2009), Dyslexia: A Complete Guide for Parents (Wiley 2004), Dyslexia (3rd edition, Continuum Publications 2010), Dyslexia and Inclusion (2nd edition, Routledge in print), Learning Styles and Inclusion (Paul Chapman/ Sage Publications (2005) and Motivating Learners in the Classroom (2007 Sage Publications).
He has also co-authored the Listening and Literacy Index (LLI) and the Special Needs Assessment Profile – (SNAP now in 4th Edition), (Hodder and Murray),   100+ Ideas for Working with Pupils with Dyslexia, The Teaching Assistants' Guide to Dyslexia and Green S. and Reid G., (Sept. 2009), Effective Learning: Ideas in Action (all Continuum Publications) and Special Educational Needs: A Guide for Inclusive Practices with Lindsay Peer (2012 Sage Publications) and Dyslexia and Inclusion (2nd edition) 2012.
His web site is www.drgavinreid.com